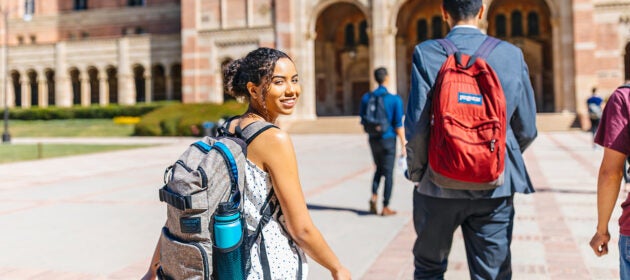 Welcome back to campus
UCLA is anticipating a robust and rewarding on-campus, in-person experience for students, faculty and staff this fall. Read about our plans. Return to campus
Updates from campus leadership
---
Information for staff, faculty and students on the University of California's proposed vaccination policy and how to get vaccinated.
---
In alignment with an order from the L.A. County Department of Public Health, UCLA is requiring all individuals, whether fully vaccinated or not, to wear face masks in all public indoor spaces effective Saturday, July 17 at 11:59 p.m.
---
Faculty, staff and students who will be living, working or learning on campus or at other UCLA properties during the fall term will need to be fully vaccinated by Sept. 9.
---
Read all updates
Events
---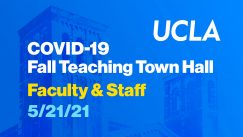 ---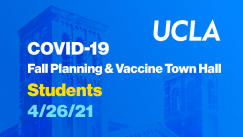 ---
See all events
Twitter updates
Follow @UCLA on Twitter to get daily updates related to coronavirus for campus community.
Follow us on Twitter
Health and safety
COVID-19 vaccines
Updates for staff, faculty and students on UCLA's vaccination program, answers to frequently asked questions and news about upcoming events.
Prevention, testing and treatment
Guidance on preventing infection, details about getting tested at UCLA Health facilities and information on COVID-19 treatments.
Confirmed cases among the campus community
Since March 16, 2020, UCLA has provided regular updates on the number of people confirmed by medical professionals to have COVID-19. This count is updated Monday through Friday at 5 p.m.
University operations
The campus is working to develop plans despite rapidly evolving data and shifting circumstances. We understand these plans will impact all of you, and we are committed to a thoughtful approach that is inclusive of the broader campus community.