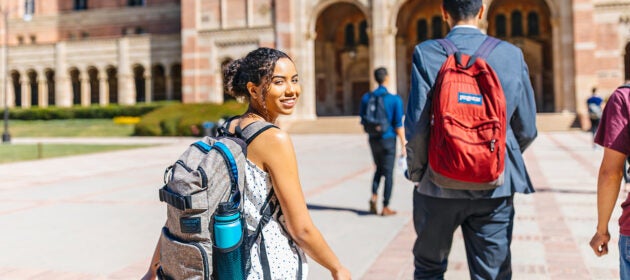 Welcome back, Bruins
Have you done your daily symptom check? Got your face mask? Get UCLA's latest guidance for learning, living and working on campus this fall. Return to campus
Updates from campus leadership
---
Complete list of campus protocols addressing COVID-19 prevention, vaccines, testing, exposure management and quarantine procedures.
---
Following up on our Oct. 6 message, we are providing more details on where and how employees can schedule their booster appointments.
---
UCLA is inviting all eligible faculty and staff to receive Pfizer-BioNTech booster doses free of charge during our October 15–31 clinic.
---
Read all updates
Events
---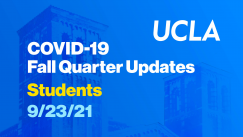 September 23, 2021
12:00 pm
---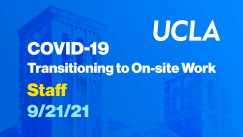 September 21, 2021
9:00 am
---
See all events
Twitter updates
Follow @UCLA on Twitter to get daily updates related to coronavirus for campus community.
Follow us on Twitter
Health and safety
COVID-19 vaccines
Updates for staff, faculty and students on UCLA's vaccination program, answers to frequently asked questions and news about upcoming events.
Prevention, testing and treatment
Guidance on preventing infection, details about getting tested at UCLA Health facilities and information on COVID-19 treatments.
Vaccination rates and COVID cases
Information on vaccination rates and confirmed COVID-19 cases among the campus community is updated Monday through Friday at 5 p.m.
University operations
The campus is working to develop plans despite rapidly evolving data and shifting circumstances. We understand these plans will impact all of you, and we are committed to a thoughtful approach that is inclusive of the broader campus community.